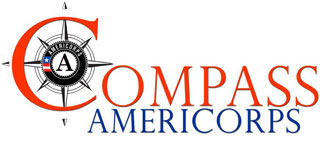 Similar to the Peace Corps, the domestic AmeriCorps program engages more than 80,000 people in intensive service each year. Compass AmeriCorps is a program of Literacy Pittsburgh that provides service-year members to our partnering organizations in Allegheny County. Our members strengthen area nonprofits by providing full-time social services support and English language instruction to newly resettled refugees, immigrants, and international populations. Compass AmeriCorps members serve 1700 hours over 11 months as part of a passionate team that meets regularly for professional development and community service projects.
All Compass AmeriCorps positions for the 2020-2021 service year have been filled. You are welcome to apply for the 2021-22 service year, and we will begin reviewing applications for this term in February 2021. If you would like to make a difference in the lives of immigrants and refugees now, we encourage you to consider
becoming a volunteer tutor for Literacy Pittsburgh
.
 Compass AmeriCorps seeks qualified, committed applicants with an interest in working with immigrants and refugees as well as professional or volunteer experience working with diverse groups of people.
Learn skills for your future career
Expand your personal and professional development
Earn money for college
Network with local nonprofit professionals
Give back to your community
Become a part of a national service movement
Make lifelong friendships
To qualify for AmeriCorps, you must be a United States Citizen, United States National, or Lawful Permanent Resident of the United States. Members must be at least 17 years old at the start of the program and have a high school diploma or equivalency or agree to obtain one. The service year runs from September through July.
You can apply on-line here. Please note that you will need to register and create an application profile in the MyAmeriCorps system.